Events
Events in Wynwood
There's always something happening in Wynwood. From tours, concerts, food tastings and much more. Mark your calendar for one of the many events taking place in the neighborhood.
Filter Results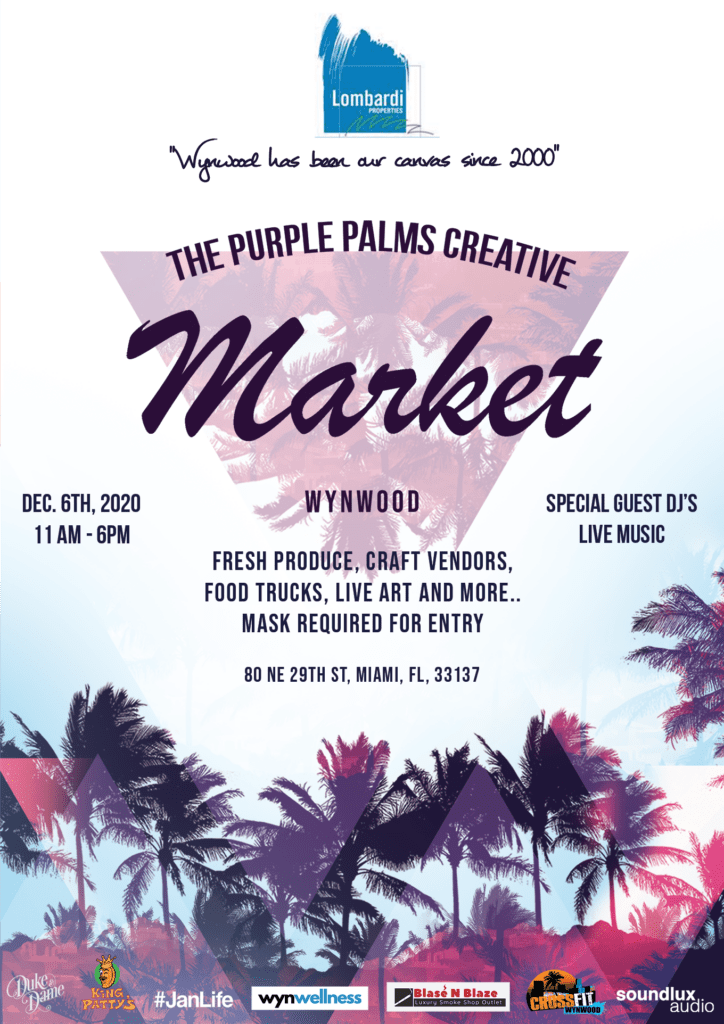 Purple Palms Market
Looking for fresh produce and a taste of the countryside in the heart of Miami?
Purple Palms Creative is hosting its first Creative Market on Sunday, December 6th.
Enjoy the sounds of live music while you browse the array of craft and food vendors and stock up on South Florida produce.  Grab a bite from local food trucks, a drink from the cocktail bar, and check out live art exhibitions in the Purple Palms gallery.
The Creative Market is your ideal place to connect with the Wynwood community, meet your neighbors, and find local artisans.  Take a moment and refresh yourself by tasting exotic fruits and discovering local small businesses.
The Creative Market is located at 80th Ne 29th Street across from Midtown.  Market hours run from 11 am-6 pm, with a private Purple Palms event following at 7 pm.
While you're in the neighborhood, be sure to check out some of the neighboring storefronts:  Blasé N Blaze, #JANLIFE, and CrossFit Wynwood.
A big thank you to all of our sponsors: Lombardi Properties, Blasé N Blaze, Soundlux Audio, #JANLIFE, Crossfit Wynwood, King Patties, and Duke and Dame.