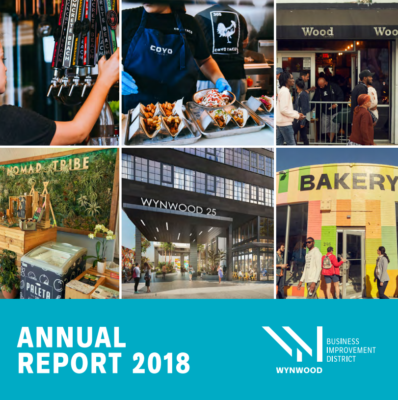 The Wynwood Business Improvement District (BID) works to promote the neighborhood as a major arts destination, advocate for the betterment of our community, and plan for the future of Wynwood.
We are pleased to share with you the 2018 Annual Report, which compiles the BID's ongoing efforts and initiatives to help area businesses thrive in Wynwood.
Following are key takeaways from the report. For the complete report, please click here.
Marketing
With more than 3 million annual visitors, The Wynwood BID works to promote the neighborhood as a global arts destination. One major marketing, as requested by business owners, was the development of a Wynwood Street Guide to help visitors navigate their way throughout the district. The initial draft was completed in time for Miami Art Week 2018 and has since been expanded with a comprehensive list of businesses and visitor information.
The BID also continued to use its digital assets, including Wynwoodmiami.com and social handles, to promote area businesses through biweekly business spotlights and user-friendly business directory profiles.
Community Outreach
The Wynwood BID reinforced its commitment to build bridges with surrounding communities in Overtown and Wynwood North by partnering with local City of Miami organizations and officials. The BID leveraged its partnerships to provide safe and enjoyable Holiday and special event community programming, including the City of Miami Police Department's Annual Shop with a Cop, District 5's HalloWynwood, the Annual Hispanic Heritage Art Showcase, and a special performance of The Nutcracker at the Adrienne Arsht Center.
Sanitation
In an effort to enhance the sanitation of our neighborhood, the Wynwood BID Clean Team, a team of 8 employees, collected 240,000 pounds of litter. The BID also advocated for the installation of additional City of Miami trash receptacles (increasing from 16 to 42) and 21 recycling bins.
Security
The Wynwood BID worked with the City of Miami and Florida Power & Light (FPL) to convert more than 300 sodium vapor street light fixtures into LED fixtures, helping make the neighborhood brighter and safer for area employees, residents and visitors.
Master Planning
As part of our work to plan for the future of Wynwood, the BID worked with the City of Miami to develop the Wynwood Streetscape and Street Tree Master Plan. The Plan will be the blueprint for Wynwood's transformation into a true live-work-play neighborhood, bringing improvements to the area's pedestrian experience, increased canopy, along with the addition of public spaces.