Events
Events in Wynwood
There's always something happening in Wynwood. From tours, concerts, food tastings and much more. Mark your calendar for one of the many events taking place in the neighborhood.
Filter Results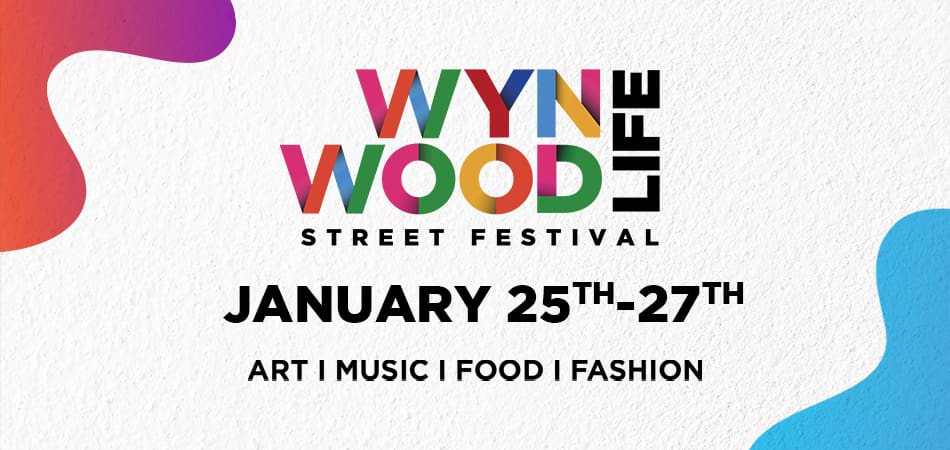 Wynwood Life Street Festival
Experience ALL of Wynwood in ONE weekend!
Wynwood Life is back again for 2019 and will be looking to unite and celebrate the heart of Wynwood through the best local experiences of ART. FOOD. FASHION. DRINKS. MUSIC.
This free three-day festival in partnership with SWARM and the Wynwood BID will feature some of the best of…
ART: Must over Art installations from around the globe and world-renown muralist paintings
FOOD: Indulge in gourmet food from Wynwood's mouth-watering local food businesses, a Food Truck Rally, and the Kitchen Lab with Wynwood's Finest, mixing up your favorite cuisine!
DRINKS: Curated unique cocktails at thedeck, and your favorite specialty brews from Wynwood's best local Breweries and Restaurants at the Beer Garden
ACTIVATIONS: Partake in one-of-a-kind blow your mind sponsor activations
MUSIC: Expand your musical interests with Wynwood's most eclectic mix of talented Dj's on our live music stages
SHOPPING /FASHION: Peruse through Wynwood's beautiful mix of local businesses and our curated Thrifter Market with local vendors displaying creative and unique products while ending your weekend with an enchantingly unique Fashion Night out event to finish everything on a high note
We look forward to bringing to life the Wynwood culture and allowing those near and far, young and old, to participate in a truly memorable weekend.
Register here for your free welcome drink with RSVP! (First 500 guests to arrive)