Events
Events in Wynwood
There's always something happening in Wynwood. From tours, concerts, food tastings and much more. Mark your calendar for one of the many events taking place in the neighborhood.
Filter Results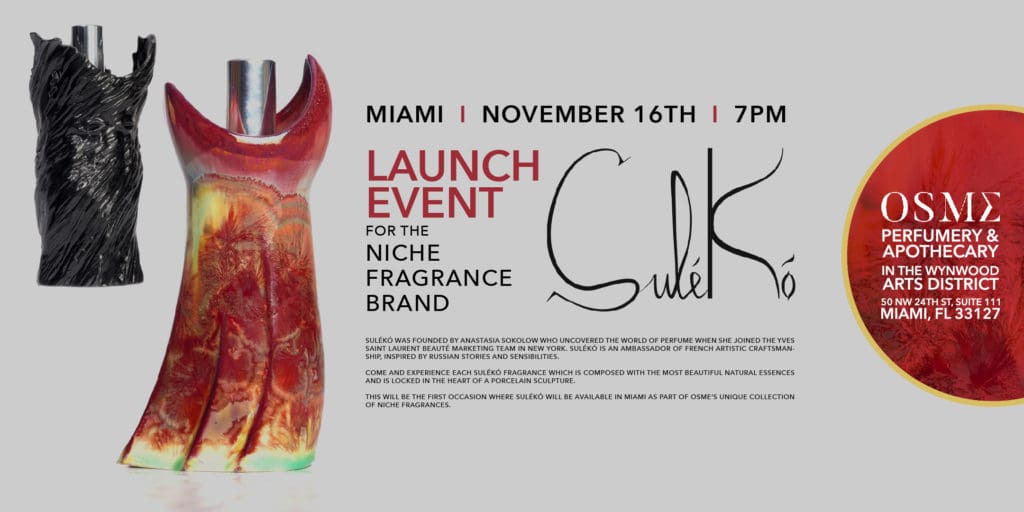 Suleko Haute Parfumerie Launch
Renowned Niche Fragrance Brand Sulékó to be launched in Miami
Osme will be launching the Niche Fragrance Brand, Sulékó in Miami on November 17th at 7PM. The event will be held at Osme Perfumery and Apothecary in the Wynwood Arts District.
Sulékó was founded by Anastasia Sokolow who uncovered the world of perfume when she joined the Yves Saint Laurent Beauté marketing team in New York. She then fully immersed herself into this universe, learning about the history of perfume, studying the great masterpieces of French Haute Parfumerie.
Sulékó continues the tradition of Russian Haute Parfumerie, which was at its height in the beginning of the twentieth centuries and was recognized worldwide for the quality of its compositions and the beauty of the bottles.
Each Suleko fragrance is composed with the most beautiful natural essences and is locked in the heart of a porcelain sculpture, a visual and tactile representation of each fragrance.
This will be the first occasion where Sulékó will be available in Miami as part of Osme's unique collection of niche fragrances.